Our Facilities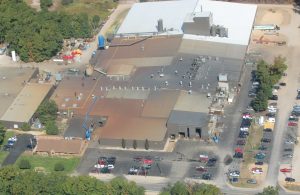 The Eagle Alloy facility is 290,000 square feet and is located at 5142 Evanston Avenue in Muskegon, Michigan.
OFFICE HOURS:
7:30 AM – 4:30 PM Monday – Thursday
7:30 AM – 4:00 PM Friday
Virtual Plant Tour
We know it's important for you to tour our facilities and that's why we've provided these photos as a first step in getting to know the Eagle Alloy. Watch the video or browse the photos below to see Eagle Alloy's facilities, and our team of casting professionals, in action.
Equipment List
We have a printable version of the facilities list available for your convenience.
Last updated 3/8/2022
Melting & Pouring Equipment
Six 5,000 lb. Dual-Trak Inductotherm Coreless Induction Furnaces with two 1750+KW Power Supplies
Three 5,000 lb. Dual-Trak Inductotherm Coreless Induction Furnaces with 1750KW Power Supply
Two 5,000 lb. and one 1,000 lb. Inductotherm Coreless Induction Furnaces with 1500KW Power Supply
Fourteen Royer Pouring Tunnels
CAD Software
Four seats of Solid Edge 3D Solid Modeling package
One seat of Cimatron Software
One seat of Fusion 360
Casting Simulation
One seat of MAGMAsoft Solidification Simulation software (8-core license)
3D Laser Scanner
Keyence VL-500 3D scanner
Sand Testing Equipment
Two Hot Tensile testing machines
Two Dietert Detroit Sand Hardness Testers
Two Melt Point Test
Sieve Pan Screen Tests
Loss on Ignition (LOI) Test
Shell Transverse Test
One Dietert Ultrasonic Clay Scrubber
One AmScope Microscope
One Magnetic Agitator
Shell Core & Mold Equipment
One Shalco 15 X 20 Shell Molding Machine
Nine Shalco 20 X 30 Shell Molding Machines

Eight Set up For Tandem 30 x 40 Capability

Eleven Shalco 16 X 24 Shell Molding Machines
Fifteen Redford Shell Core Machines
Eight Shalco U180 Shell Core Machines
Airset Core & Mold Equipment
One Palmer Mixer High Speed Auger Mixer for Airset Molding (300lbs/min)
One Kloster Rollover
Cleaning & Gate Removal
Three ABB Robots Equipped for Grinding Castings
One Pangborn 4-in-1 Reclaimer; 34 Cubic Foot Blast & Reclaimer
Three 34 Cubic Foot Pangborn Tumble Blast
Eight Fox 30hp Snag Grinders with 30″ Wheels
Thirty-Two 1000 Amp Miller Air Arcs
Two Arc & Wire Feed Welders
Assorted Handheld Air Tools
Six Dake Presses (two 150-Ton, four 100-Ton)……………….
Two Hand Plasma Arc Cutters
Two AW Bell Belt Grinders #RGS460
One Didion D-150 w/Media Drum
Seven TIG Weld Stations
Sand Coating Plant Equipment
(Capable of Coating 9.5 Tons of Sand/Hour)
One 200 Ton Sand Tower
One 100 Ton Sand Tower
Four 40 Ton Coated Sand Towers
Sand Heater
Continuous Mixer
Batch Mixer
Thermal Oxidizer
Quality Control & Testing Equipment
Two Thermo Scientific ARL3460 spectrometers capable of running, but not limited to, carbon steel, stainless and nickel-base materials
Two 5,000 AMP Magna-Flux Magnetic Particle Testers, Type H-710
Dye Penetrant Capabilities
One Pittsburgh Instrument & Machine Company Brinell Hardness Tester with 1-20X Bausch & Lomb Scopes
One Detroit Testing Machine Company Hydraulic Brinell Hardness Tester Model PHL-3 with 1-20X HiLight Brinell Scope
One Brinell Optical Scanning System, OS-300WC
One Pantak HF320 X-Ray System
Heat Treating
Three Annealing & Normalizing Furnaces, capable of 2050° Maximum Temperature
Two Water Quench Tanks
One Quench & Temper Furnace with Polymer Quench System (2-rack capability)
Six HTF Air Ratio Low Oxygen Heat Treat Furnaces
One Thermal Care Water Cooling System
Air Power
300hp Gardner-Denver Compressor
350hp ATLAS COPCO Variable Speed Compressor
200hp Gardner-Denver Compressor
150hp Ingersoll Rand Compressor
Two 125hp ATLAS COPCO
One 150hp ATLAS COPCO
ManagAIR System
Sand Reclamation Equipment
(Capable of reclaiming 4.25 Tons of Sand/Hour)
One 200 Ton Trane Chiller
One Calcafire Thermal Reclaimer
One Deduster
One 200 Ton Sand Tower
One Simpson Proclaim Clay Scrubber
Updated 3/8/2022