About Us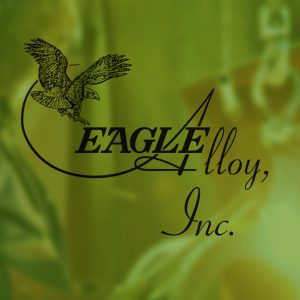 Eagle Alloy, Inc. is one of two foundries and a machine shop that make up The Eagle Group.  The Eagle Group offers steel and stainless steel castings, precision investment castings in both ferrous and non-ferrous alloys, machining and assembly services.
Based in Muskegon, Michigan, Eagle Alloy, Inc. produces shell molded steel and stainless steel castings.  Shell molding is a very precise and very repeatable casting process and is the accepted standard for medium to high volume production projects.  Shell molding provides a better surface finish than greensand or airset and Shell castings won't have the bothersome cope-to-drag shift or sand defects you see in other molding processes.  Also, in most cases, Shell castings are more economical.
Eagle Alloy is the largest of the Eagle Group foundries with just over 240,000 sq ft of manufacturing space.  Started in 1979, Eagle Alloy has been recognized as one of the premier steel foundries in the country.  Our Lean Manufacturing concepts ushered in cell manufacturing, which reduced our inventory, shortened the throughput of castings and allows us to react quickly when our customers are in need.
We have strived to maintain a very diverse customer base.  We do NO automotive work.  Never have.  Instead we cater to those companies that recognize the value of a steel foundry that is reliable in all aspects of business – Service, Quality, Delivery and Cost.  We service over 250 active customers from over 25 different industries.  Our diversity shelters us from many of the fluctuations in individual markets and gives us a strong sales base from which to build.  We're financially stable, which means you won't have to worry about your steel foundry not surviving the next market downturn.
Intro to Eagle Alloy
For videos about other Eagle Group companies, please visit the Eagle Group Videos page.
EAGLE ALLOY CERTIFICATIONS
Eagle Alloy, Inc. is an ISO certified steel casting foundry. We also comply with a number of other global directives, like PED, RoHS and REACH.
ISO and PED Certifications
Eagle Alloy's ISO and PED certifications meet the following standards:
ISO 9001:2015 – ANSI/ISO/ASQ Q9001-2015;
Pressure Equipment Directive (PED) Annex I, Paragraph 4.3 of 2014/68/EU or 97/23/EC 7/2;
RoHS and REACH Compliance
Eagle Alloy, Inc. also complies fully with the RoHS directive, RoHS2 (Directive 2002/95/EC RoHS Directive and with Directive 2011/65/EU of the European Parliament and of the Council of 8 June 2011) and the REACH regulation (Regulation (EC) No 1907/2006 – Registration, Evaluation, Authorisation and Restriction of Chemicals)
ITAR and SAM Registration
In addition to our certifications, Eagle Alloy is also registered with ITAR (International Traffic in Arms Regulations) and SAM (System for Award Management. By registering with these entities, we are able to streamline any manufacturing projects related to U.S. Government contracts, including those originating with the Department of Defense.