Awards & Recognition
In recent years Eagle Alloy has received a number of awards for outstanding performance, community engagement and company values. We strive to continuously improve our processes and our products. Our goal is to minimize returns and maximize quality casting output, while promoting an inclusive and rewarding work environment. Eagle Alloy awards serve to reinforce our company's mission, and we are honored to receive recognition for our work.
John G. Thodis Michigan Manufacturer of the Year
Michigan Manufacturers Association (MMA)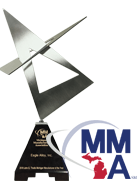 A prestigious honor since 1981, the award is named after MMA's longest-serving president and honors the important, positive and tangible contributions individual manufacturers make to their employees, customers and communities. Eagle Alloy was selected in 2018 by an independent panel of judges for being at the forefront when it comes to progressive ways to attract students to the manufacturing community, utilizing career day events, internships and community engagement with over 40 charitable organizations.  Learn more about Eagle Alloy's award and watch a video prepared by MMA here.
North American Metalcaster of the Year
American Foundry Society (AFS)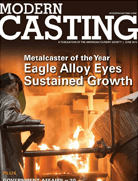 Eagle Alloy, Inc. received the American Foundry Society's highest honor, Metalcaster of the Year, in 2015. We received this award as a result of our multifaceted approach to corporate responsibility, including improved employee health care, waste limitations and community engagement. These improvements, in addition to a long dedication to community engagement, typify the company's long-term approach to corporate responsibility. Watch a video from Metalcasting Television highlighting Eagle Alloy's award here.
Jack F. Steele Excellence in Marketing Award
American Foundry Society (AFS)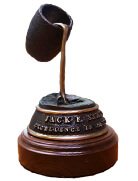 This award was endowed by Grede Foundries in 2001 to honor the late Jack Steele, one of the foundry industry's true marketing pioneers. The purpose of the award is to recognize a company or group for its achievements in promoting its business and the metalcasting industry through an outstanding marketing message. In 2020, Jeff Cook of Eagle Alloy received the Jack F. Steel Excellence in Marketing Award from the American Foundry Society.
Partner-Level Status
John Deere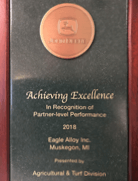 Eagle Alloy, Inc. earned recognition as a Partner-level supplier for 2018 in the John Deere Achieving Excellence Program. The Partner-level status is Deere & Company's highest supplier rating. Eagle Alloy was selected for the honor in recognition of our dedication to providing products and services of outstanding quality as well as our commitment to continuous improvement. Learn more about the Eagle Alloy's recognition as a John Deere Partner-level supplier here.
On-Time Delivery Recognition
Kimray, Inc.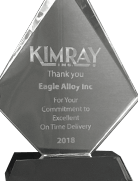 Eagle Alloy earned recognition from Kimray, Inc. at their Spring Supplier Symposium for excellent on-time delivery performance in 2018. Out of Kimray's list of over 400 suppliers, 41 received this recognition, which required suppliers to maintain an on-time delivery percentage of at least 97. Throughout the year we made weekly truckload shipments to Kimray, sometimes even twice a week, and we managed to retain an on-time delivery percentage of 98.8. Along with the trophy recognizing our commitment to excellent on-time delivery, we also received a certificate recognizing our demonstration of dependability.
Specialty, Defense & Off-Highway Supplier of the Year
Arvin Meritor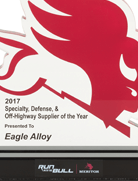 SQEP Gold Certification
Caterpillar, Inc.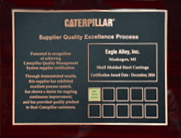 Eagle Alloy, Inc. earned gold status in 2017 for Caterpillar, Inc.'s Supplier Quality Excellence Process (SQEP). Caterpillar awards bronze, silver, gold or platinum status to suppliers displaying excellence in product quality, delivery and cost on an ongoing basis. and is only awarded to those who demonstrate such world-class performance on an ongoing basis.
Safety Award
Steel Founders Society of America (SFSA)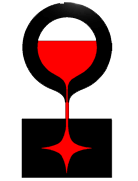 With their Safety Awards, SFSA aims to recognize members that do their part in improving the industry-wide safety record. Eagle Alloy, Inc. received the Steel Founders Society of America (SFSA) Safety Award in 2015. In order to be eligible for this award, casting facilities must maintain a Days Away from Work, Restricted or job Transferred (DART) rate of 2.2 or less. DART is calculated by the following formula: Number of DART cases/ total hours worked x 200,000.