MMA Honors Industry Leaders with Michigan Manufacturer of the Year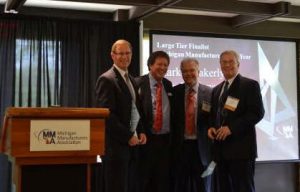 Michigan manufacturing leaders Mark Fazakerley and John Workman were jointly named 2012 John G. Thodis Michigan Manufacturer of the Year Award finalists by the Michigan Manufacturers Association (MMA). The awards program, in its 30th year, recognizes the positive contributions of Michigan manufacturers to the industry and their local communities.
Muskegon-based Eagle Group's President, Mark Fazakerley, and Vice President, John Workman, were jointly nominated and chosen to be honored by the judging panel as Large Tier finalists for their entrepreneurial vision and ability to find innovative solutions for the never-ending challenges faced as manufacturers, and specifically as the owners of multiple businesses: three foundries and a machine shop. The productivity improvements and cost-cutting strategies put in place during the recession have translated into more efficient companies today, capable of competing with the rest of the world. Under their leadership and "guidelines for growth", Fazakerley and Workman have made each of the companies under their ownership a dynamic, growing company hiring new workers at all levels of production and management, and investing in equipment. Together, their four companies employ almost 500 individuals.
The Eagle Group consists of four separately run companies: Eagle Alloy, Inc., Eagle Precision Cast Parts, Inc., Eagle Aluminum Cast Products, Inc., and Eagle CNC Technologies, Inc. Each was founded on the principal of superior customer service. The owners continue to stress that importance, which has translated into profitable sales growth almost every year of being in business.
LANSING — May 8, 2012