Eagle Alloy Sponsors Metalcasting Mural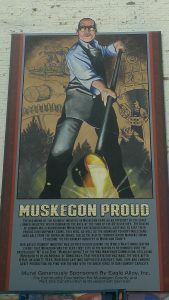 Muskegon, Mich., is proud of its history, of which metalcasting plays a large part.  The city recently commissioned a mural depicting metalcasting on a remodeled industrial building downtown.
The mural, designed and mostly funded by local steel casting facility Eagle Alloy Inc. co-owners Mark Fazakerley and John Workman, illustrates the industrial heritage of Muskegon, focusing its foundry roots.
Fazakerley has been involved with multiple renovation projects in the downtown area over the years, helping to repair and/or replace cast lamp posts, fences and fountains.
This banner, shown to the left, is displayed on the wall along Western Avenue in Muskegon.  Eagle Alloy commissioned the Walldogs to design and paint this banner as a historical look into Muskegon industries and Mark Fazakerley scripted the statement at the bottom of the sign.  Eagle Alloy's Muskegon Proud sign took 3rd place honors in the 2014 International Sign contest.