AFS Chapter Plans Multiple Student Outreach Events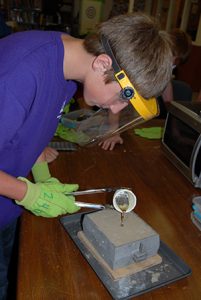 November 5, 2013
The AFS Western Michigan Chapter is earning student outreach extra credit with several metalcasting presentations planned this fall to area high schools. The presentations include a demonstration of the Foundry in a Box kit that gives students the opportunity to make a sand mold and safely pour molten metal into the mold to produce a casting.
Jeff Cook, sales manager at Eagle Alloy, Muskegon, Mich., represented the chapter at Fruitport High School's engineering class in October with a Foundry in a Box demonstration. The engineering class studies various manufacturing processes, including casting. Along with the demonstration, Cook talked about the various casting industries and careers available, particularly in the Western Michigan region.  More demonstrations are planned for Oakridge High School on Nov. 8, Calvary Christian Nov. 14 and Grand Haven High School Dec. 13.
For more information on AFS student and community outreach, visit www.afsinc.org/nextgeneration.